Has it hit 100 degrees where you're at yet? It sure feels like it here! With the heat, you may have the urge to keep the kids inside, even though they are begging to go out. Stay cool this summer with these fun water play toys and activities.
Ice Painting
For this activity you will need:
Washable paint
Ice cube tray
Popsicle sticks
Foil
This activity requires some preparation, but once you prep for it, you can easily have it at your disposal when nothing seems to be entertaining your toddler. Just fill the ice cube molds halfway with paint, finish filling with water, and stir. Next, place tin foil over the tray with popsicle sticks through the foil as the "paint cube" handle. Once these babies freeze, they are ready to be taken outside with some paper. Let your creativity fly with this cool activity.
Giant Water Table Play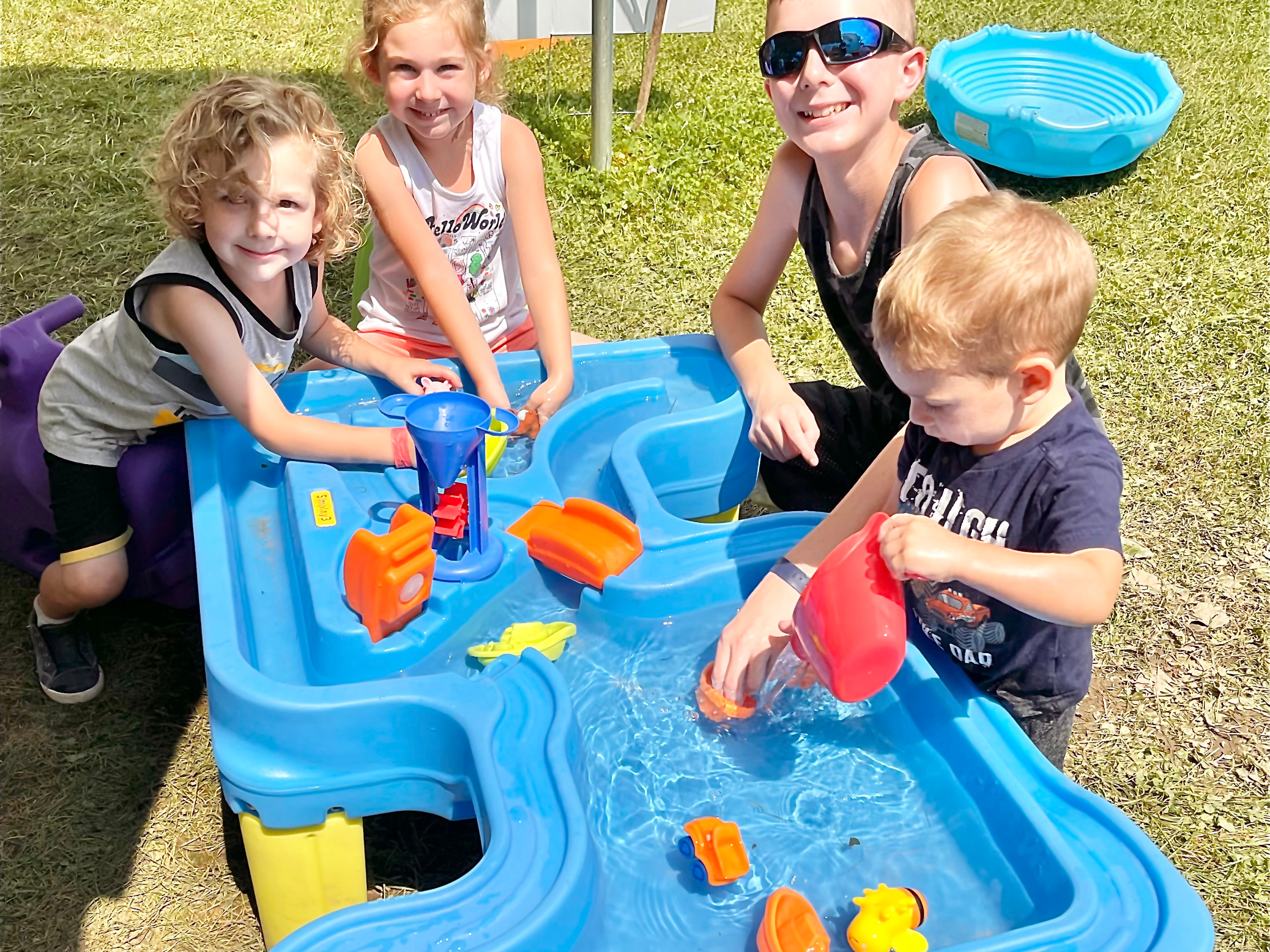 The Big River and Roads Water Play Table from Simplay3 is so big that you can invite all the neighborhood kids to come over and enjoy some of the fun! It comes with boats, cars, and bridges to inspire cooperative and imaginative play experiences. As one of the largest water tables on the market, this is sure to bring all the fun to your yard, all with minimal set up.
Color foam fun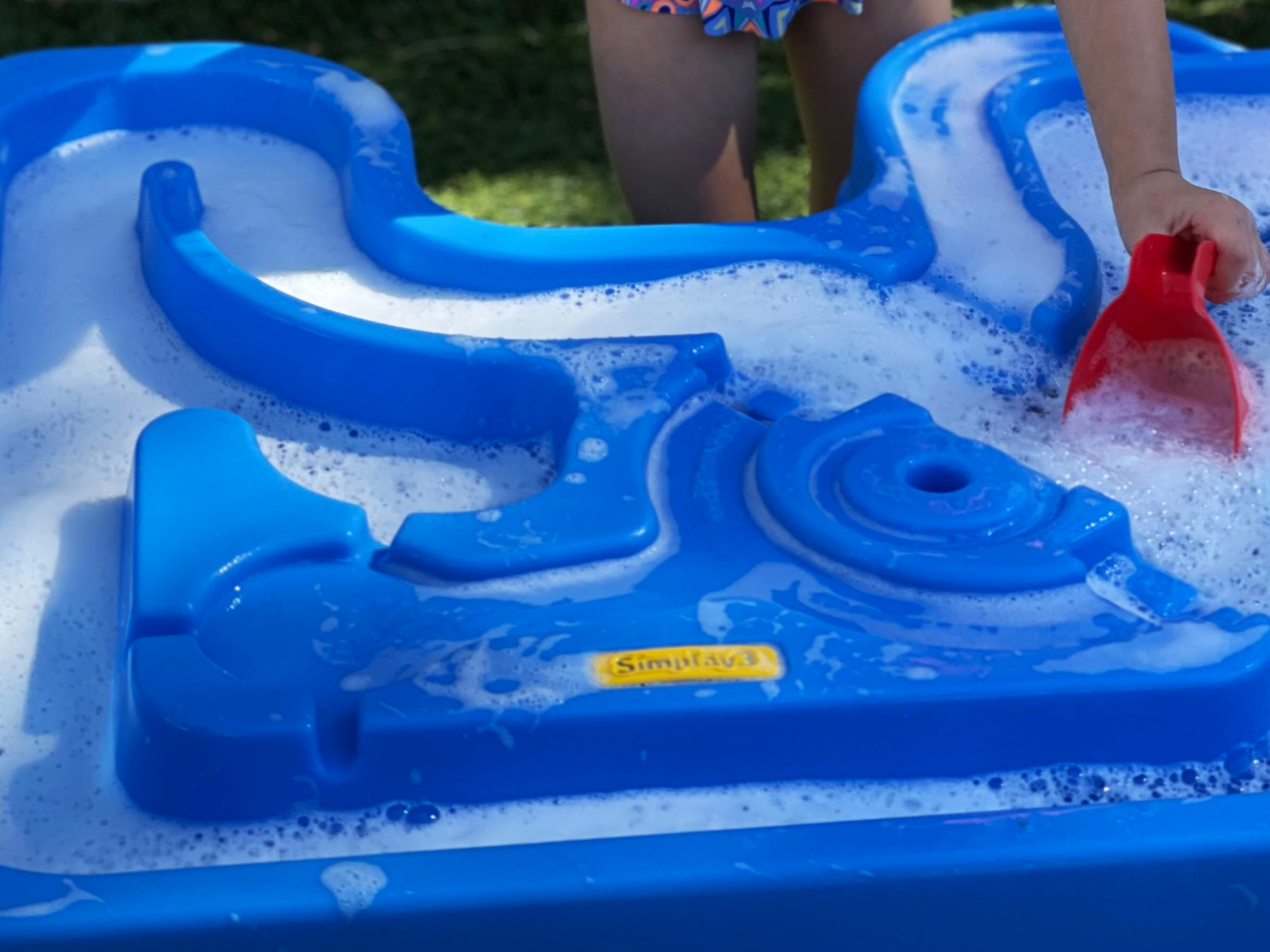 For this activity you will need:
Dish soap - 4 tbsp.
Food coloring - 8-10 drops
Water - ½ cup
Standing or hand mixer
This easy sensory activity is excellent for any age - and can be whipped up in minutes! Place 4 tablespoons of dish soap in with a ½ cup of water into your mixing bowl. Then add in your food coloring; 8-10 drops are recommended but make it as vibrant or as pastel as you want. Finally, mix with an electric mixer on high for about 2 minutes or until the foam forms peaks. Play with this foam on a water table, baking sheet, plastic bin, or sensory table such as the highly rated In & Out Activity Table.
Ice Excavation
For this, you will need:
Little plastic toys/treasures
Tupperware
Water
To start off this expedition, get your Tupperware, fill it halfway with toys, freeze and then repeat on top of that layer. Once you have your block, take it outside for the excavation to begin. Give your little ones safe tool options like; utensils, water droppers, spray bottles, etc. Toy tools work great for this activity as well. Then watch your child as they chip away at the ice to discover their own favorite treasures.
Sensory Play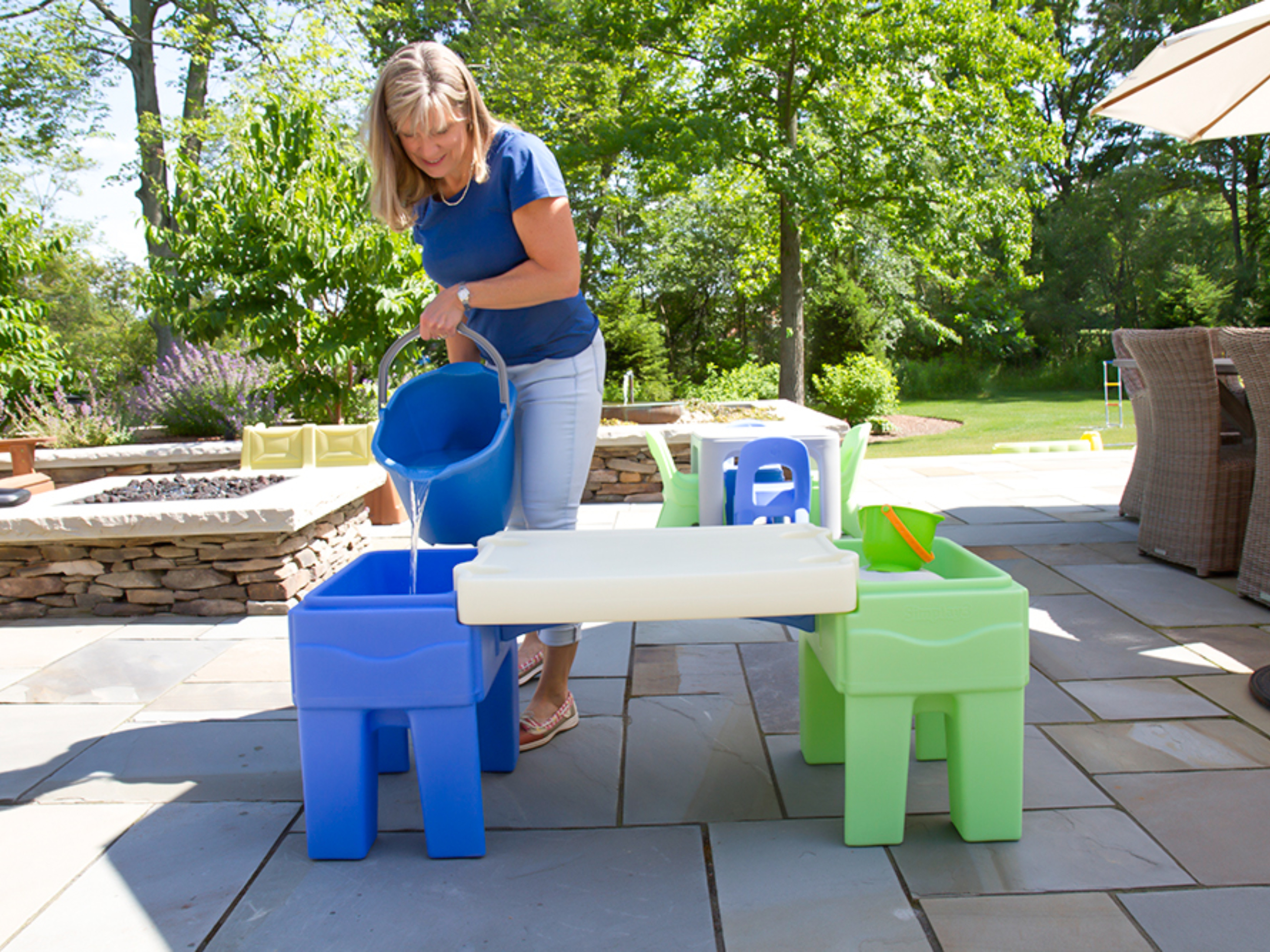 An activity table is a must-have for summer fun. This In & Out Activity Table by Simplay3 is perfect for all activities, with two storage bins that can hold water, dirt, sand and more. These bins also nicely tuck away under the table top for easy storage.
Water Table Car Wash
Is your little one obsessed with the car wash? Well, bring the car wash home with only two bins, soap and some water. Take one bin and fill it with dirt, mud and cars then take the other bin and fill it with soapy water. This way your little one can get all messy in the mud and drive over to the car wash for a nice bath.
STEM Play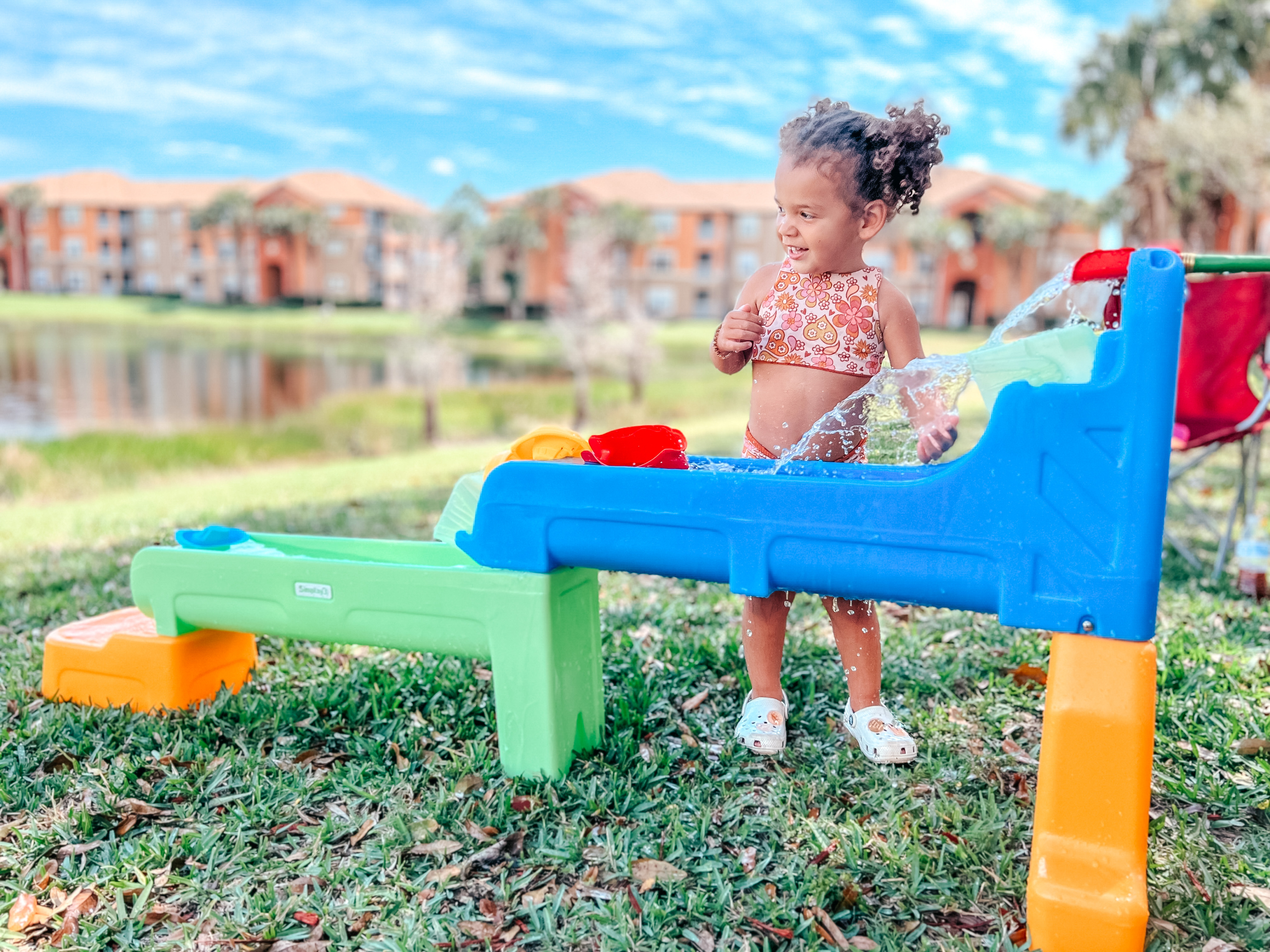 This unique and collapsible Rushing River Falls Water Play Table from Simplay3 is inspired by gold rush STEM activities found at most children's museums. With pouring buckets and multiple levels, children are introduced to STEM/STEAM concepts like cause and effect. Race down the river with the included boats and see who finishes first.
At home beach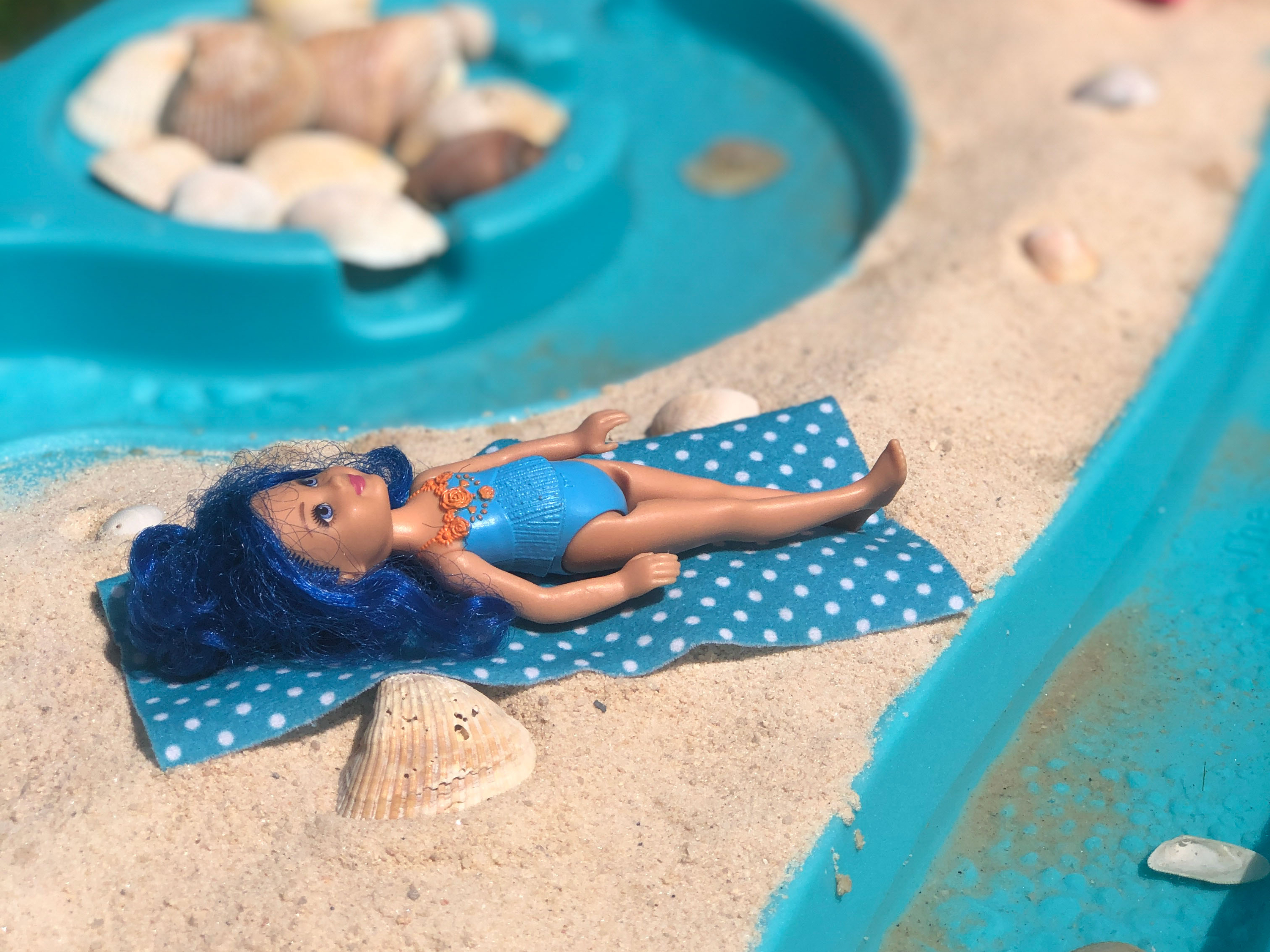 Bring the beach to your backyard with these simple steps. All you need is:
Sand
Water
Bin/Water Table
Seashells/Rocks
Nothing feels better than wet send between your fingers when you build a sandcastle. Take some sand and cover the bottom of your water table with it. Place in seashells and rocks that your child can dig and discover. Finish off your beach with some water and boom! Backyard beach! Encourage your little ones to try to create islands and castles with the moldable sand.
Water Balloons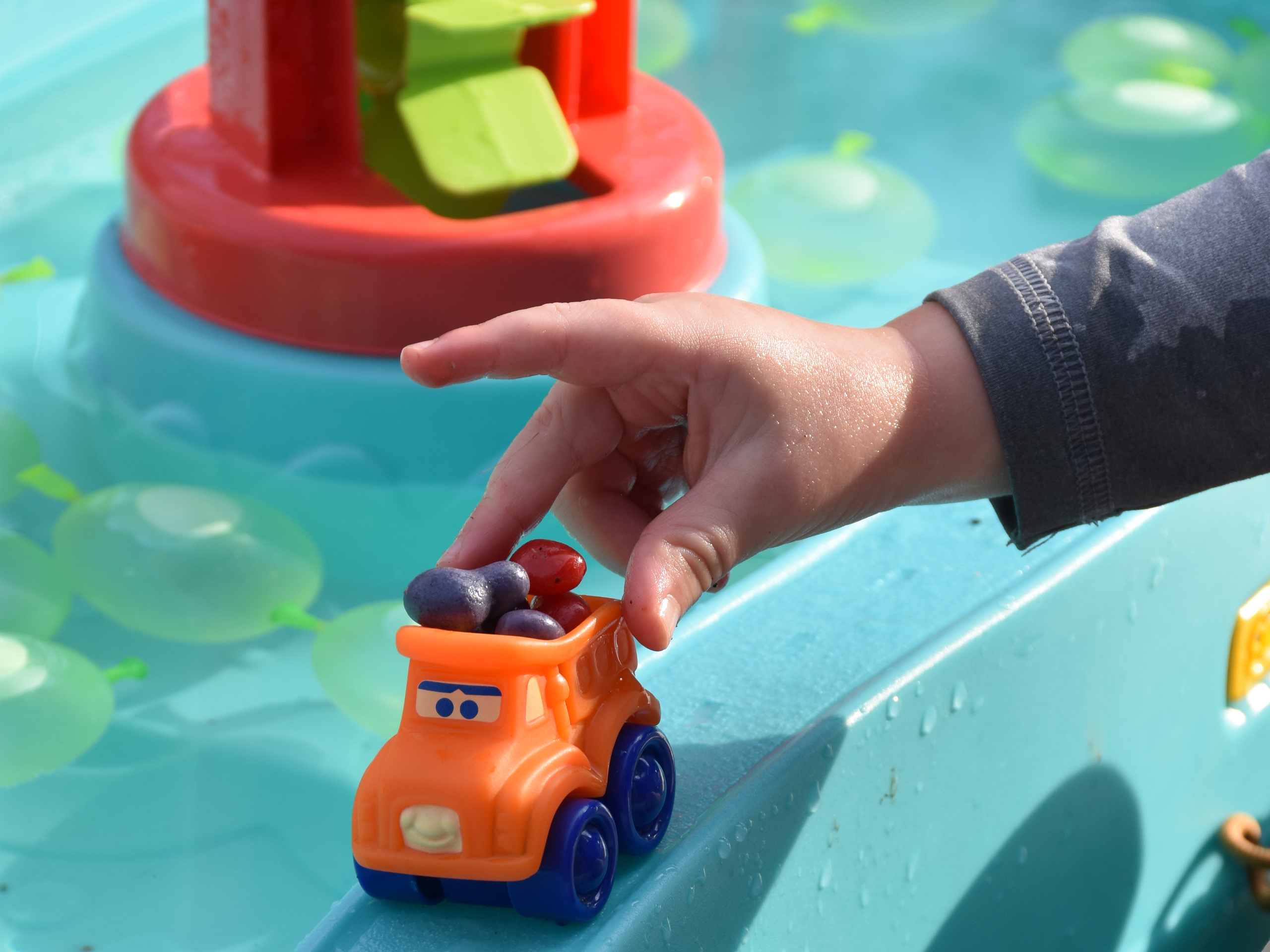 A childhood classic - water balloons. There are so many ways to play with these in the summer, besides throwing them at your sibling. Fill them up and place them in a bin or water table as a sensory experiment. Have them try and hand them to you. Mix up the colors and call out a certain one to find, even practice fine motor skills by figuring out how to pop them, the options are endless.
Travel Water Table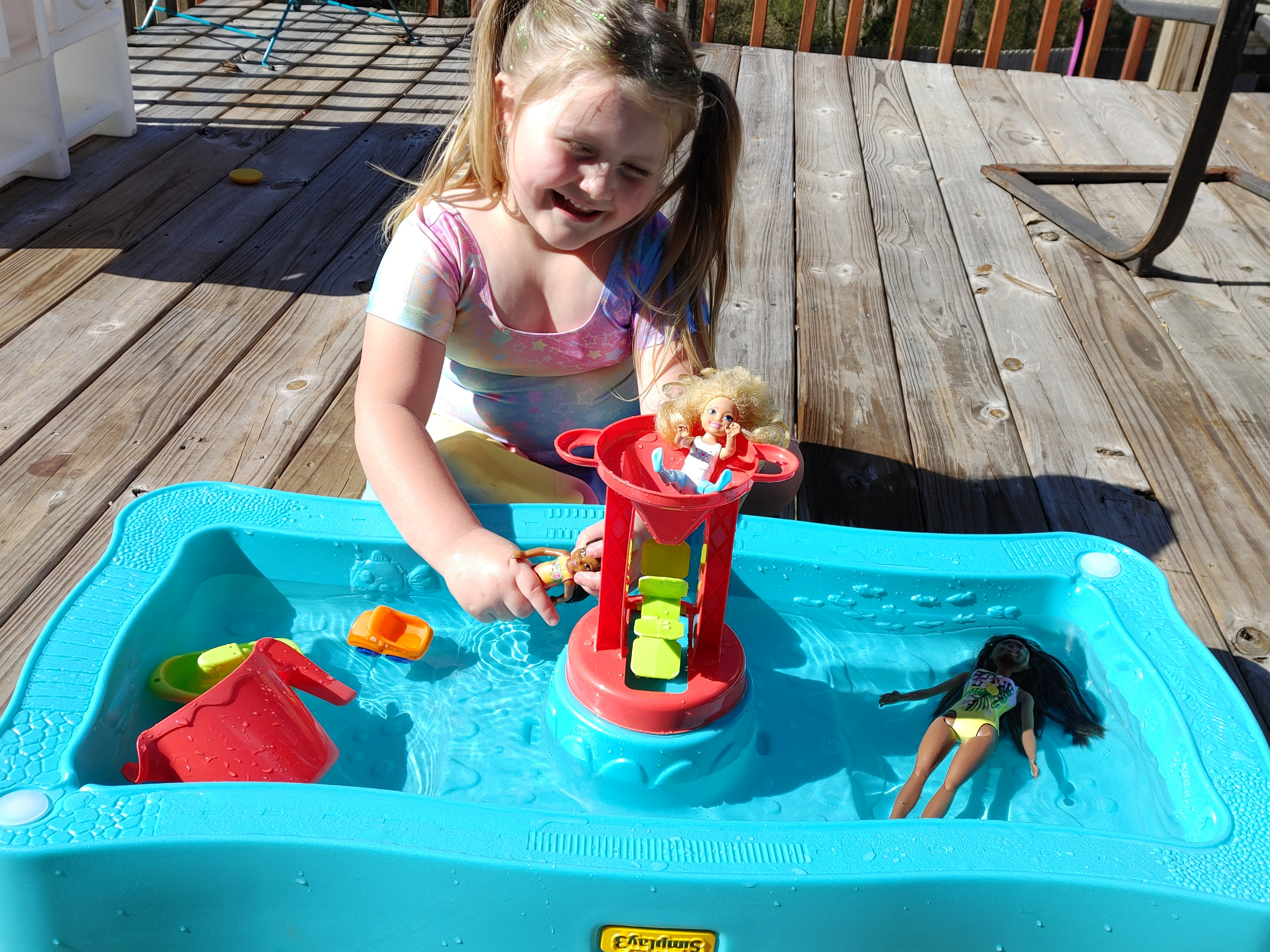 The Carry & Go Ocean Drive Water Table is great for young toddlers to splash and play in. New from Simplay3, that can go with you on vacation or out to the pool. It is dual-sided for double the fun of racetracks, waves and deep ocean fun. Many of the featured activities above can be done with this lightweight yet durable water table as a base.
What kind of water adventure will you create this summer?
Shop all of Simplay3's water toys and more at Simplay3.com.