We all know that young children look to their parents for advice and, at a very early age, will imitate and display behavior patterns of those closest to them.
In the US with the popularity of football from Pee Wee leagues through High School, NCAA college level and all the way to NFL professional football, it's little wonder that both boys and girls grow up to be devoted fans to their alma maters as well as their home town teams.

As the chart below indicates, LOYAL NFL fans cover a wide area surrounding each franchise. But more than that, countless satellite clubs (formed by avid fans) in worldwide venues meet to view televised games and support and swap memories of game time victories and defeats. The love of football in America is without question a worldwide phenomenon.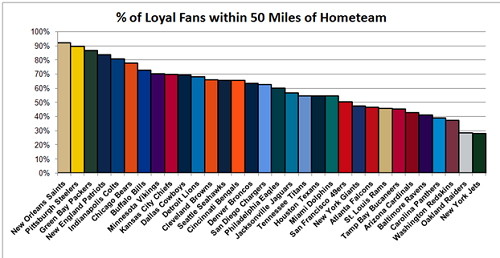 Just in time for this year's NFL playoffs and upcoming Super Bowl, Simplay3, a company known for its innovative designs, offers a new way to share your team pride with your youngster. The Game Day Helmet, a toddler vehicle taking the young child from stroller to first ride-in, is perfect for around the neighborhood, a visit to a shopping mall, or trip to just about anywhere.

The Simplay3 Game Day Helmet is available in several team colors and features a football-style "steering wheel," 2 football decals and seat belt for a secure ride. Parents can customize the "helmet" to show their team pride with their decals.