From the very beginning little ones are enamored with animals, even more so with exotic ones like elephants. Elephants grace the pages of so many of our favorite books growing up (Horton Hears a Who and Polar Bear, Polar Bear for example) immediately making an impact on children. With that said, it's no wonder our designers were inspired by these gentle giants to create Elly.
Simplay3's Elly Coupe is a combination of two things we love as children: a foot to floor coupe and an elephant. By opening Elly's door and taking a seat inside, your little one will immediately be transferred to a world ripe with imagination. Whether going on a safari, driving through Zootopia, or listening for their own little Who, Elly will be a source of imaginative play for your child.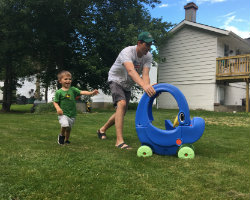 Elly is made to be the perfect coupe for any child complete with a wheel for driving and storage for snacks.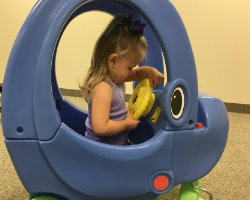 This coupe was also designed with parents in mind taking 15 minutes or less to assemble. Of course we assemble these every day so read about Jet Setting Mom's experience assembling here to see it's a breeze.
Our only warning is that Elly is so fun you may need one for each of your littles.
We're certain you and your child will make many memories in this imaginative coupe, find out all of the details on Simplay3's Elly Coupe today!