It's important to start teaching children body parts early, it's even a milestone for their development. There's always the age old song "Head, Shoulders, Knees and Toes" but why not mix it up and make learning body parts a fun game that uses sensory play as well? Two birds, one stone!
Sensory play helps build all your child's sense: touch, smell, taste, movement, balance, sight and hearing. It also supports language development, cognitive growth and all kinds of other important skills, all while encouraging your toddler to use the scientific process as they investigate and explore. Sensory play helps build the foundation for future learning.
So let's get our play on!
Learn Body Parts with Sensory Play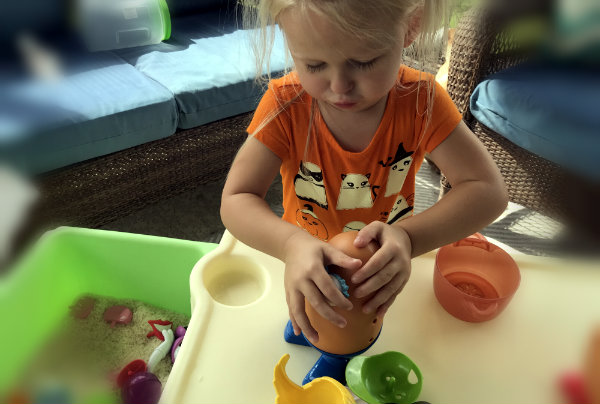 Materials Needed:
Step 1
Fill your bins/table with your preferred sensory material, for ours we used rice.
Step 2
Add body parts, smaller toys like blocks or food and digging tools to sensory material. Bury some so that your child has to work through the material to find it.
Step 3
Set up your bare Mr./Mrs. Potato head on a flat surface near the sensory table. Or if you're using our In & Out Activity Table make sure the table top is on the flat side so that they stand nicely on top.
Step 4
Let the fun begin! Ask your toddler to find eyes, an ear, an arm. Bonus, they'll be working on fine motor skills as they use tongs to pick them up and place them into the right spots. Encourage your tot to mine around in the sensory bin as they look and continue to ask both direct and open questions to allow them to work on language.

Most of all have fun!