The holidays are over but are your kids still experiencing the excitement in bursts? While this can be exhausting for the whole family, there's actually some science behind the kids' interest, or re-interest, in a new toy.
This graph from the Science of Parenthood is a comical, albeit disturbingly true, representation of the life cycle of many toys.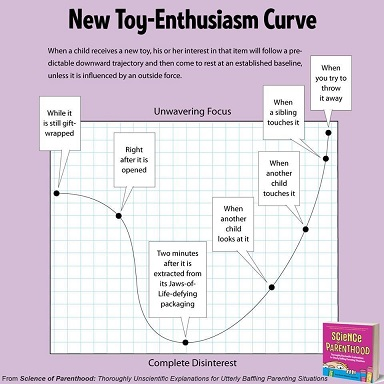 Just like most years, we all saw the frenzy surrounding some of the most sought after toys this holiday season. Long lines for limited stock followed by opportunists taking it upon themselves to sell their prized possession for exorbitant prices online to parents desperate to please their little ones.
At Simplay3, our mission is to design and manufacture high quality, durable play things that will withstand the test of time. Our Ohio-based company uses the rotational molding process to ensure our children's play and children's furniture products will outlast even the toughest play times for years of use and abuse.
Classic play things like toy kitchens, ride-in cars, pedal cars, toddler wagons all possess the same high quality and well thought out design. Whether it's keeping them physically moving or nurturing a child's imagination, we believe that the child should direct the play and not the toy. With that in mind, Simplay3 items are designed to be open-ended with the child's imagination as the key to unlock the possibilities for hours of creative and physical play.
Our goal is for your child to never lose interest in our play things and for you to never want to "try to throw it away." But instead….recycle it to the next little one ready for a fun-filled play experience!